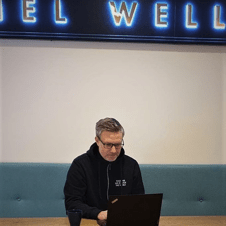 Per Zetterman
Logistic Manager – OPERATIONS
WHAT DO YOU DO AT DW?
I'm the Logistic Manager at our Warehouse in Uppsala. My tasks are very varied, but in the end it is all about making sure our customers get their packages on time.
WHY WORK AT DW?
DW is a fantastic workplace where you get the opportunity to work in a global company together with lovely and wonderful colleagues.
FAVORITE DW PRODUCT(S)?
My favorite product is the Iconic Link Artic. I love the contrast of the silver finish and the blue dial and it works for any occasion
WHAT DO YOU LIKE TO DO WHEN YOU ARE NOT AT WORK?
I like to spend time with my wonderful wife and our 3 daughters. Every now and then i also play some golf with my friends.