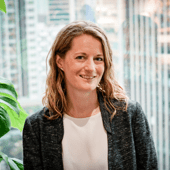 Charlotte Nielsen
Chief Financial Officer – FINANCE
WHAT DO YOU DO AT DW?
Im the Group CFO at Daniel Wellington - I work with my team on everything related to finance e.g. accounting, cashflow, reporting, analysis. Besides this I have a commercial focus and work closely with the business
WHY WORK AT DW?
First - the people, second -  the great opportunities I worked 4 years out of our Hong Kong office before transferring to HQ in Stockholm, third  - I love the speed of the business and the international environment
FAVORITE DW PRODUCT(S)?
Iconic Link Lumine
WHAT DO YOU LIKE TO DO WHEN YOU ARE NOT AT WORK?
Love being outdoor - it used to be on the hiking trails now more at the playground with my daughter