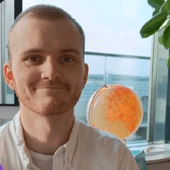 Tom Hård af Segerstad
Talent Acquisition Business Partner – PEOPLE & CULTURE
WHAT DO YOU DO AT DW?
I'm the Talent Acquisition department in Sweden, recruiting for Stockholm and Uppsala. Also aiding P&C teams globally with recruitment efforts. I work closely with my P&C colleagues on different projects but my main focus is making sure we have great people working here. 

WHY DW?
I like the size of the company. We work globally but we are still a tight organization where I can make quick decisions, impact, and collaborate with a lot of amazing people. Amazing people is the next reason why I joined and why I'm staying!
FAVORITE DW PRODUCT(S)?
I fell for the pastel colors from the Endless Summer campaign in summer 2022. I've got one Iconic Link Mint and one Capri that I use way too much. I also have one with a black dial for a more "safe" look. No more Iconic Links...
WHAT DO YOU LIKE DOING WHEN YOU ARE NOT AT WORK?
I have a dog and I like to do cross-fit. If you want to be my friend you can bribe me with sweets.